2020 - a year of pain, but also growth and collaboration - a message from Groundswell founder Hadiya Masieh.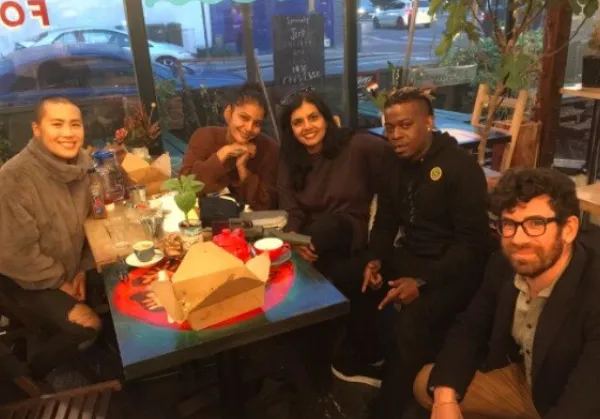 It's difficult to believe that we now only have a few weeks left of 2020 - the year that was... On 1 January, none of us could possibly have imagined that a small story on the news channels about a few dozen cases of an unknown strain of pneumonia in China would eventually turn into a global pandemic that would bring international travel to a halt, kill nearly 2 million people and affect the lives of literally billions of us now and for years to come. No one has been left untouched by the onset of COVID-19, and we still don't know when or how this will end. A light is certainly at the end of the tunnel with a developed and approved vaccine, but we have many unanswered questions, and further challenges around vaccination rates and how to further halt the spread of this disease.
But there is now a glimmer of hope. And here at Groundswell, from the beginning, we have always been about hope. Hope that we can help build a better, and more peaceful, world. Hope that we can defeat the extremist rhetoric that creates terrorists and fills people with hate. Hope that we can find, connect and amplify the work of individuals and groups aligned to our same beliefs. And, for us, 2020 has seen a massive growth in our mission, and in the achievement of our vision.
I am so pleased that I now have a core team of people equally committed to creating a better world - a team packed with talent, insight and creativity, that has helped us significantly grow our social media following this year; create some moving and impactful short films highlighting several ways that extremism is being tackled, and beaten, in our communities; and further develop and enhance our unique 'peace mapper', our raison d'etre, that is helping to build a web of connections to build peace rather than hate.
More widely, I have been delighted this year that Groundswell has been trusted by the Mayor of London and the Shared Endeavour Fund to be the vehicle to promote and connect more than 50 funded organisations that are helping to tackle extremism in the capital. Groundswell is fast developing a name as the organisation to work with in the counter-extremism field in the UK. Of course, none of this would have been possible without the initial seed and supplementary funding we have got from organisations including the Gene Roddenberry Foundation and the Bylo Chacon Foundation, among others.
We have also continued to grow our connections with big business. I was buzzing from a recent session we ran with Facebook alongside more than 70 community organisations. This session gave those organisations an opportunity to hear from top-level experts in social media and connecting with communities, and this was an opportunity provided to them for free, through Groundswell. No other organisations out there are doing this, and it fills me with excitement to think what we could continue to achieve, together, in 2021 and beyond.
And there's so much more happening that I want to share, but will wait until early next year to give you the detail. I think the future of the counter extremism agenda is in practical community initiatives, alongside the amazing and positive online work we have initiated and grown. And the conditions in society, created by the pandemic, means that community cohesion, and neighbours helping neighbours - no matter creed, colour, faith or any other differences, will take on ever greater importance over the coming months. And Groundswell, I am sure, will be there, helping to connect and support people to carry on fighting the good fight.
A merry Christmas and a happy new year to all of our friends and followers. It's been a pleasure to work alongside so many of you this year. Let's hope 2021 is better in every way than the last 12 months.
With all my love
Hadiya