Why we can't let hate win - an interview with Mike Haines.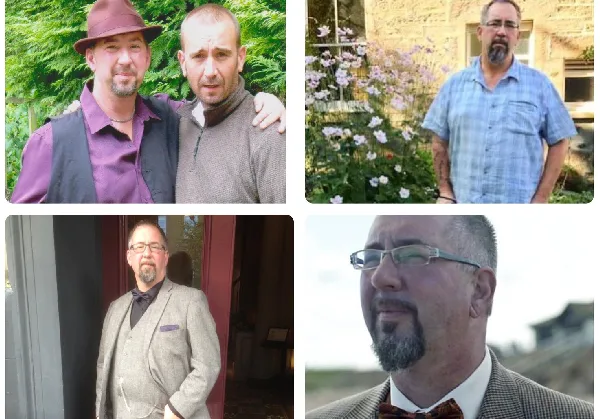 The brutal and senseless killing of Western hostages by ISIS back in 2014, when the terror group were at their height, shocked the entire world. But for some, those murders had a much more personal impact and have changed their lives forever. One such man is Mike Haines, brother of the murdered aid worker David Haines.
No one would blame Mike for feeling full of anger and hatred and desiring of retribution following such a horrific act, but - speaking to Groundswell this week - he explained how that initial response was quickly replaced by a desire instead to defeat hate, promote unity and turn people, especially the young, away from extremism and towards doing good and building peace. And that is what he has devoted his life to, through the organisation Global Acts of Unity, ever since.
He explained to us how his family has a long history of service - through the Armed Forces and more recently through humanitarian work such as that being carried out by David prior to his death. That, and the fact that his family lived in various different places during his childhood and adolescence, helped to build in Mike and David a strong sense of equality and fairness, and built an unshakeable belief that people should not be discriminated against for their beliefs, faith, colour of their skin or anything else. It was that conviction and that desire to help those who were suffering in the world that led David to volunteer in 2013 for the charity Acted, which was doing important work to help refugees in the Syrian conflict.
Soon after arriving in Syria, David was captured by ISIS fighters and held captive for a number of months. Tragically, that incarceration ended with his violent death, which dominated international news agendas for days back in September 2014. Speaking about his immediate response, Mike said: "My first reaction was anger and hatred - I have never felt such strong emotions. If I had done what I felt like doing at that time, my family would have lost another son."
Mike goes on to reflect on the international and cross-faith support for David at the time. He said: "One thousand Muslim imams called for his release - they saw his role as that of the Good Samaritan. We had a lot of hope that he would get out of it. Sadly he didn't - at 11pm on the night of his death, I received a call from my team leader in London telling me that David had gone. That night I gathered my family together in my home and I told my mother that her son couldn't be hurt any more."
Recalling the moment that his family just sat and cried together, he said: "David meant nothing to those terrorists. They just wanted to spread hatred; I very soon came to the realisation that if I reacted in anger, I would be doing their job for them."
Speaking about his journey towards setting up Global Acts of Unity, he said: "David's death was about terror, and I could see what these people were trying to do with our country. I had to do something against it. Public speaking has always scared me, but I started speaking at various events. I specifically remember speaking at a multi-faith event in Birmingham four or five weeks after David's death."
He continued: "After the event, a guy tapped me on the shoulder and said he was a headteacher and asked me if I was free, could I come and speak at his school the following day. I agreed, and when I arrived the next day was taken aback - there were 1,400 students there! But I just spoke from the heart, and it was incredible. Lines of students queued up to shake my hand afterwards and it was then that Global Acts of Unity was born. I realised then that it is the younger generation that is going to make the change."
Since then, Mike has concentrated on visiting schools and other gatherings of young people to tell his story - the story of two brothers and how their lives have had an impact on so many. In the intervening years he has spoken to more than 100,000 people across hundreds of different settings. He focuses on speaking firstly about his and his brother's experiences growing up and of course David's death and the impact it had on his family. He then goes on to empower his young audiences to see the choice they have growing up in today's world. A choice to work for good or to listen to the lies and temptations of the extremists. And the results are clear to see, with engagement levels of 98% and hundreds of letters from children, parents, teachers and other youth workers about stories of inspiration of young people who had been on the wrong track turning their lives around after listening to Mike.
He said: "If our work can have an impact on one young person to turn them away from hate and towards love, we have done our job."
Mike continues to talk to young people across the country and the world. If you would like to get in touch to see how you can work together, visit his site here . Groundswell is proud to be a partner of Global Acts of Unity and friends with Mike, and we look forward to having a long and fruitful partnership.